As a small business, email marketing is one of your most important ways to build relationships and attract new customers. 
While digital marketers today put a lot of time and effort into creating multi-channel marketing campaigns, no other marketing channel holds as much reliability and credibility as email. Email is the powerhouse behind most great marketing campaigns, and it's an essential tool to grow your small business. 
If you aren't using email marketing, then stop everything you're doing and get started straight away. 
In this guide, we'll cover everything you need to know about email marketing for small businesses, and how you can use it successfully to make more sales.

What is Email Marketing?
Email marketing is when you use email as a tool to reach out to your audience and push marketing activities. You've almost certainly received emails from brands before – this is email marketing.
Email marketing is so much more than just sending out messages about your products and services. There are many different ways that small businesses can use email marketing. This could be to:
Increase brand awareness
Grow an audience
Improve communications
Gain deeper customer insights
Increase revenue
Build relationships with customers
And plenty more. Check out these email marketing examples for a better understanding of the types of emails you can send. 
And why should customers get involved with email marketing? 
Well, it's important to understand that email marketing should never be a one-way conversation. Instead, customers should also benefit from email marketing by:
Gaining valuable insights and information
Staying up to date with the business's latest offerings
Access discounts and other benefits
Fulfill the customer journey
How Does Email Marketing Work?
Email marketing is an easy process. It doesn't take hours to draft emails, schedule them, and track their performance. Instead, email marketing software helps you create effective, effortless campaigns. 
To understand how this works, let's break down the three fundamental elements of email marketing. You simply can't do email marketing without this. 
1. Active Email List
You can't send out marketing emails without an active email list. This is the full list of people who have signed up to receive your email communications. Ideally, your business will have multiple lists based on different interests and behaviors (more on this later).
2. Email Marketing Platform
You can't send out mass marketing emails using your everyday email platform. Instead, you need to use the right email marketing services and tools to help you grow and manage your lists, design email campaigns, schedule and automate your email marketing and monitor your analytics. 
Wishpond is the best email marketing tool for small businesses, providing a complete platform to generate leads and create killer email campaigns.

3. Clearly Defined Goals
Before creating and sending out an email marketing strategy, you need to have a clearly defined goal in place. This means you need to know exactly what outcome you want your email marketing strategy to achieve.
It could be increasing sales, improving brand recognition, driving more website visitors, lead generation, and more.
Why is Email Marketing Important for Small Businesses?
Email marketing for small businesses is incredibly important, no matter what kind of business we're talking about. Email marketing starts the sales process, improves it, and increases customer awareness of a brand. 
With a carefully planned email marketing strategy, small businesses can gain more customers and increase conversions. Email marketing is also an essential part of any sales funnel because it summons:
Awareness
Interest
Decision
Action
As a small business owner, you can use email marketing to help your business access the following four things.
1. Wide Reach
Other marketing channels, such as social media, don't offer as wide a reach as email does. Email marketing is the perfect strategy to fill in the gaps that your other marketing channels are leaving. 
Email also lets you reach customers directly. When you send someone an email, they are notified straight away and can check out the email on their mobile phone. With a successful email marketing strategy, you will be able to access a more direct line of communication with the customer. 
2. Email Motivates Action
Email is an excellent way to trigger a response from the recipient. Each email marketing message you send leaves an impression, and email is an excellent way to inspire actions. 
This could be by pushing sales, inviting recipients to book a demo, or more. Creating target emails, aimed at specific audience segments, will help you to motivate a specific action with each email you send. 
3. Adds Value
Using email marketing for small businesses is an excellent way to add value to your audience. Use email to share helpful information, useful tips, interesting content, special offers, and more. 
This will help your small business build trust and credibility, and keep your audience engaged. 
4. Leaves Room for Creativity
Email marketing gives you a direct communication channel with your audience. What you do with this is up to you. 
You can use email marketing in all kinds of different ways. There are many ways you can execute an email marketing strategy to differentiate your business from the competition. Email allows you to get creative with the content and offers that you send, and analyze the results of your different email experiments.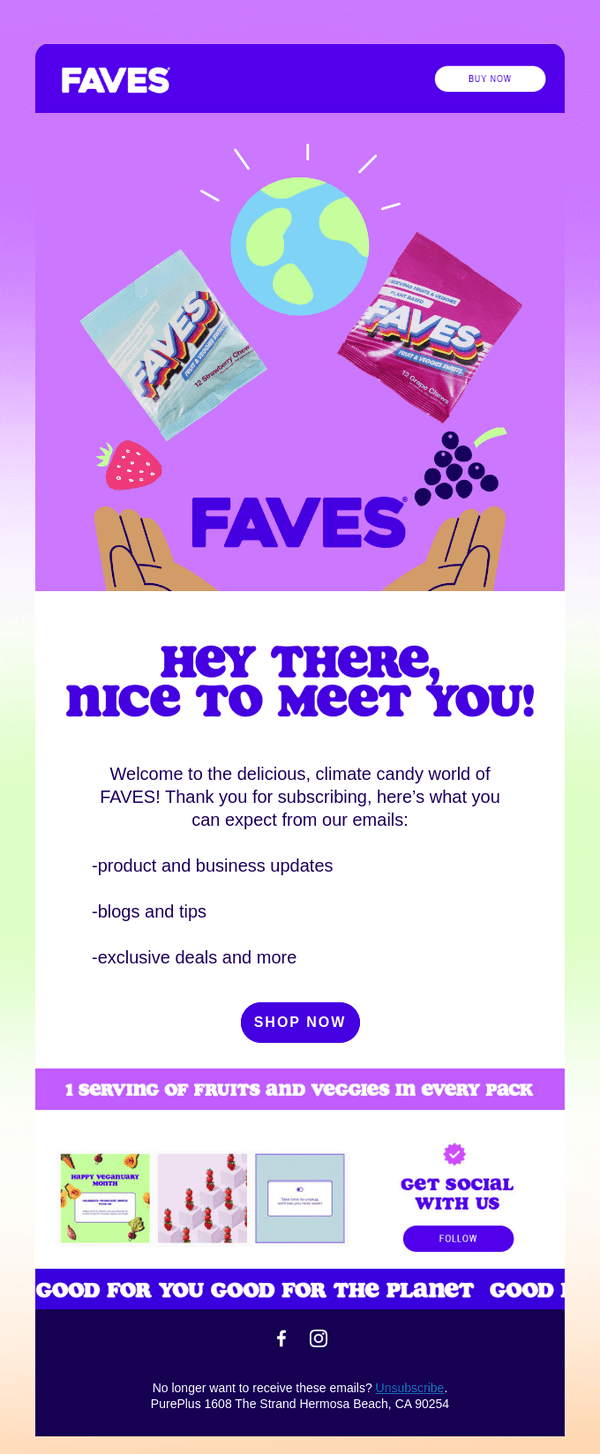 Benefits Of Email Marketing
A solid email marketing strategy is one of the most valuable ways for any small business to market itself. No matter what you sell or who your audience is, email marketing campaigns offer the following benefits:
Amazing ROI: Sending an email blast doesn't have to cost you anything, and it can result in a very high rate of conversions
Improves retention: Email marketing lets you consistently engage with customers to keep them interested in your business
Reach new customers: Sending valuable online content, like blog posts and videos, via email will help you attract new customers and build trust with them
Develops your brand: Email marketing is an excellent way to promote thought leadership and develop a strong brand within your field
Promote products and services: Whether you're offering new products, a special offer, or just want to remind customers about what you do, email marketing is a great way to do it
Drive sales: Run email campaigns, special offers, loyalty programs, and more to increase your sales
Understand your customers: Sending emails and monitoring their engagement helps you understand what your customers like and don't like
Stay top-of-mind: regular email marketing messages help your brand to stay relevant and at the forefront of your customers' minds
How to Start Small Business Email Marketing
Don't be intimidated by email marketing campaigns. Email is one of the easiest things to incorporate into your marketing strategy, and any kind of business can do it. 
Any successful email marketing strategy covers four main areas:
Building an email list
Planning the types of emails to send
Writing and designing the emails
Sending the campaign and analyzing the results
Let's break these four things down to help your small business create its first email marketing campaign.
1. Building an Email List
You simply can't send out an email marketing campaign if you don't have an email list to send it to. The first step for any small business email marketing plan should be to gather up a contact list. There are many different ways to do this. 
The easiest way to gather email subscribers is to publish a form on your website that captures the subscribers' information. In order for this to be effective, you need to make sure you're offering value to potential subscribers.
Make it clear what they will get if they sign up for your mailing list. This could be free content, helpful videos, weekly tips, special offers, or more. Nobody wants to be hit with marketing spam, they want to receive helpful, valuable, interesting content. 
So, make sure that you offer value to gain email subscribers. Some great ways to do this could be to offer free downloadable content (like an ebook) to anyone that provides their name and email address. You could also run a contest to gather new email subscribers. 
Link to your sign-up form in all high-traffic places. This could include your website homepage, your blog, your social media bio, and even your email signature. 
Soon enough, you'll have a healthy list of email subscribers to send content to.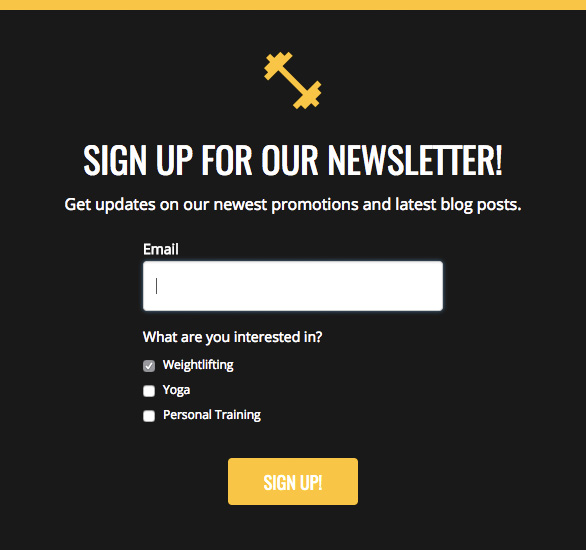 2. Plan the Types Of Emails to Send
Now you've got a growing email list, so it's time to send out content to your subscribers. Before you just type something up and hit send, it's important to understand the different types of emails that exist. 
This could include:
A regular newsletter
Promotional emails around sales and special offers
Seasonal emails that focus on special events or holidays
Emails promoting your blog content
Personalized discount emails for your customers
Transactional emails, such as receipts and notifications
Of course, you can include all of these different types of marketing emails. 
It's incredibly important to develop an email marketing strategy first before you just start sending. This will help you to send the right content at the right time, without bombarding your subscribers with too much marketing material.
You also need to carefully plan the consistency of your email marketing strategy. Your goal should be to offer a steady stream of email content, without sending emails so often that recipients mark them as spam. A monthly newsletter is a good place for small businesses to start, and build up from.
Of course, the types of emails you send depend on the type of business you run and what your email marketing goals are. 
3. Write and Design Your Emails
Now you have people to send emails to, and you know what type of email content you're going to send. The next step in creating email marketing campaigns is to actually put together the email. 
This will involve two things: writing the email and designing it. 
Writing the Email
Email copywriting is an incredibly important task. What your email says will determine how successful its results are. It's important to write for conversions and understand what your goal for the email is. 
To do this, always keep the customer in mind first. Think about what recipients want to see, and write content that adds value to them.
Keep your email content short, snappy, and to the point. Always highlight benefits over features, and make sure that you offer your recipients something of value in return for clicking on your email.
Possibly the most important part of any email marketing message is the subject line. The email subject line determines whether your email will be opened or not. Make sure the subject is enticing, interesting, and demands attention.
When you're sending out an email blast to a mass list of people, it's very difficult to make that one message relevant to everyone. For this reason, it's important to segment your email lists, and send each list a personalized email.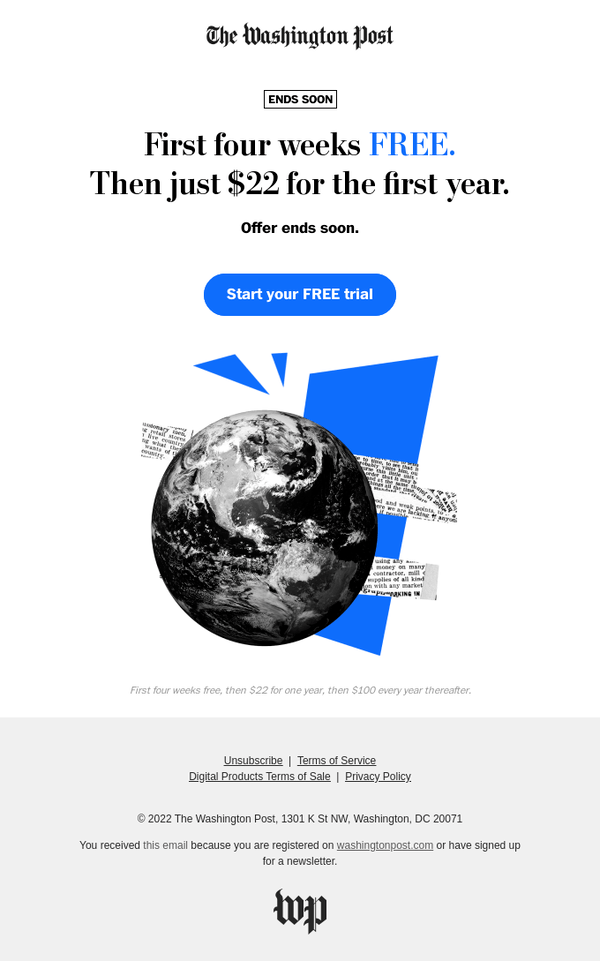 Designing the Email
Marketing emails aren't the same as a regular old email you'd send to a friend or colleague. In order for them to attract attention and generate interest, you'll need them to look attractive. This is where email design is important.
Keep your email design simple, and don't overpower your email content with design elements. You want the email to look great and stand out, but you also want it to be familiar.
If design sounds scary to you, don't worry. Any good email marketing platform, like Wishpond, will offer a simple drag-and-drop editor with free professionally designed templates. With Wishpond, you can just choose between a wide range of templates based on the type of email you're sending, and simply fill in your email information.
However you design your email, you need to always make sure that it offers an enticing call to action (CTA). Your CTA is what the user clicks on. Without this, you won't be able to achieve anything with your email marketing efforts. 
Make your CTA bright, bold, and simple. Always focus each email on a single, clear CTA.

4. Send Your Email Campaign
Finally, it's time to send out your email marketing campaign. Choose the right list and hit send. 
Your email marketing efforts are not done yet now that your message has been sent out. The next step is to analyze the performance of your campaign to see how successful it was and how you can optimize future campaigns. 
Luckily, email offers a wide range of metrics and KPIs that you can monitor. Your email marketing platform will be able to show you how many emails were delivered, how many were opened, how many were clicked, how many people unsubscribed from your list, and plenty more. 
Monitoring all of this data is important for understanding what your audience likes and doesn't like, identifying trends, and keeping an eye on conversions.
10 Small Business Email Marketing Tips
Now you know how to create email marketing campaigns for your small business. However, there's a lot that goes into each campaign to determine how successful it will be. 
Here are 10 tips that you can follow when creating your email marketing strategy.
1. Segment Your Lists and Deliver Personalized Content
We already touched on this earlier, but its importance cannot be stressed enough. 
In order for your email campaigns to be successful, they need to deliver relevant content to the right people. If you send content to people who aren't interested in it, they will either unsubscribe or mark you as a spam sender. Neither of these is any good. 
To fix this, you'll need to create segmented email lists based on things like interest, purchasing history, or certain demographics (like age, gender, etc). The more specific your different lists are, the more relevant the type of content you'll be able to send them. This will help you keep your audience more engaged while increasing conversions. 
For example, if someone downloaded a certain ebook to join your mailing list, you know that this person has an interest in what the ebook is about. Create a separate list for everyone who downloaded this ebook, and send them content that matches their interest. 
The more personalized and customized your email campaigns are, the better your deliverability will be.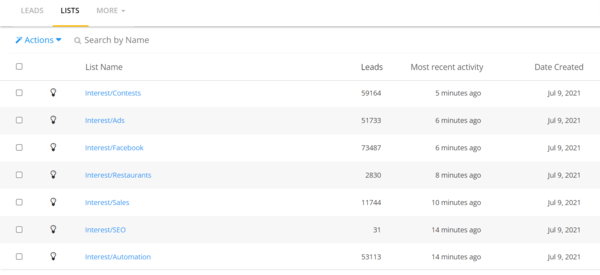 2. Always Test Your Emails
You'll never be able to improve the results of your email campaigns if you always do the same thing. 
Whenever you send out email marketing content, always try to A/B test your emails to see what works best. A/B testing is when you offer two different variations of the same email, and send each variation to half of the list. Then you can monitor the results of the emails to see which one performed better.
You could change your subject line, change the CTA, take a different angle for the email, or make any other change. This will help you understand what your audience responds better to, giving you a good idea of what direction to take for your next email.
By continually A/B testing, recording the results, and optimizing your future email marketing campaigns, you'll be able to consistently improve your email marketing results. 
For example, here are two versions of different subject lines for the same email:


3. Make it Easy to Subscribe
Small businesses want to gather as many subscribers as possible to start running email campaigns with a greater impact. To do this, don't make it difficult for the user to sign up. 
If the user has to fill out a form, include only the bare minimum of what you need from them. Never make the process complicated. This will help you get more people signing up.
4. Offer Incentives to Email Subscribers
To get more people to sign up to your mailing list, make sure you give them a reason to join. This could be through offering special promotions, discounts, resources, or any other enticing information that you offer.
Make sure email subscribers know what incentives are on offer and what kind of value they can get if they choose to subscribe. Of course, make sure that you are honest about this and that you actually deliver on what you promised. 
5. Monitor the Right Email KPIs
One of the best things about email marketing is that it gives you access to loads of helpful metrics. Make sure you're using your email marketing service to make the most of the analytics on offer.
After each campaign, always check the relevant metrics, understand what influenced them, and use this to optimize future campaigns. Your most important metrics include conversions, open rate, click-through rate, and deliverability. However, there are many more important email marketing KPIs to understand.
6. Focus On Mobile-Responsiveness
Most people will check your emails on their phones, so make sure you always optimize your emails for mobile responsiveness. Use responsive designs, and ensure your email marketing software has the option to check what your email looks like on a mobile screen. Always test your email across different devices before sending it out. 
7. Test Your Emails Before Sending Them
This is one of the most overlooked steps in email marketing, and it can have an enormous effect. It's so easy to overlook a typo or incorrect link when you put your emails together. Before you hit send, always send a test email to yourself first.
Check how the subject line shows up in your inbox, how the email reads, and make sure all of the links work. Any good email marketing service should have the option to send a test email before you blast your message to your subscribers. 
This may seem like a silly step, but it could prevent you from sending an awkward typo or a button with no link. 
8. Personalize Your Email Content
We've established the importance of sending out your emails to segmented lists based on their interests and behavior. Well, it's also important to add small personalization details, such as including the recipient's name. 
Small details like this make the marketing email seem more human, which makes it more enticing to read. Even if you are blasting the same message to thousands of people, you don't want the message to come across as being generic. 
Instead, add the recipient's name, include their business name, and write the email in the same way you would write an email to somebody you know. Small details like this will make an enormous difference to your engagement. 

9. Make it Easy to Unsubscribe
You want to have as big of an email subscriber list as possible, but this doesn't mean you can't let go of unhappy subscribers. An essential part of email marketing is offering a clear option to opt-out. This is a legal requirement, and it will also help your campaigns achieve better results.
If a subscriber doesn't want to see your email content anymore, then you have to be able to let them go. If you don't, they will only get irritated with your brand which could be damaging. And if you don't offer an easy unsubscribe button, subscribers will start marking your emails as spam. This will vastly lower the number of your emails that reach inboxes.
10. Encourage Sign-Ups Wherever You Can
To get more email subscribers and increase the impact of your email campaigns, make sure you don't limit your signup form to one place. Instead, give your customers as many chances as possible to sign up for your mailing list.
Add email signup forms across your website. If you have an online store, add the option for customers to opt-in to your emails when they checkout. Brick and mortar stores can even gather email addresses through a clipboard, asking customers if they want to stay up to date with the latest business news.
Wherever you have a touchpoint with your audience, you could use this to gather more email subscribers. 
Using Email Automation
Another aspect of email marketing is that you can send automated emails. Automated emails are important for small businesses because they can save vast amounts of time and effort while making sure that your email marketing is properly covered.
With the right marketing automation platform, you can set up automated emails that are triggered by certain actions. For example, you could use marketing automation to send a welcome email each time a new subscriber joins your mailing list. 
Marketing automation can also be used to set up multi-step email drip campaigns. This means you can set up an email workflow, consisting of a series of emails, with each one triggered by a certain action. 
If a subscriber clicks one link, they get sent email A. If a subscriber doesn't click, they get email B. 
This helps you deliver the right content to the right people at the right time, without having to put any effort into it. 
Automated email marketing software is important for small businesses that don't have a lot of people to manage things like this. If you're trying to manage your marketing at the same time as dealing with customers (and everything else), then putting your email marketing on autopilot will be incredibly helpful.

Conclusion
With the right email marketing tools and strategy, any small business can have huge success with this marketing medium. It really doesn't matter what type of small business you run, what you sell, or who your customers are – email marketing will always make sense. 
You can use email to fuel your marketing strategy in many different ways. Whatever email marketing strategies you use, just make sure that you have a clear goal in place. This will help every email you send achieve better results for your business. 
Keen to get started with email marketing for your small business? Try out Wishpond to see just how easy it is to run email campaigns that deliver awesome results. 
Related Content
tom